We held an audition with Kelly and Joe on Wednesday, February 8th. As you know, we welcomed them into the band that evening. So, our next practice, on Thursday, February 16th, was our first practice with the new lineup. Our official photographer, Garth Gullekson, volunteered to take some pictures, which you can see below. Although Ted's a bit shy when it comes to individual photos, there are lots of photos of the rest of us below. Enjoy!
[Editor's Note: At this point of time in our history, Rick was still a member of the band going back to its start at the League of Rock. Unfortunately, due to personal commitments and health issues in his family, Rick made the difficult decision to leave the band in July, 2017. We keep in touch and wish him well.]
Keeping Practice Fun
We try to keep our practices fun while still accomplishing the serious task of learning to play songs well together. As you can see, Rick is having fun.
Joe Hard At Work
Yes, practice is fun but there's also a time to be serious.
Marc in Action
Marc works the fretboard with determination.
Rhythm and Guitar
Here we have Scott on bass and Ted on drums forming the rhythm section responsible for keeping the foundation of the song. Rick plays his guitar.
Scott on Bass
This picture shows Scott playing his bass. He's using his five-string Fender Jazz Bass guitar here, so he's either playing Heart's Alone or Tom Petty's Free Fallin', the two songs we're working on at the moment that sound best with the five string. Scott more frequently plays a four-string Fender Precision bass guitar.
Scott's New Pedalboard
Scott was looking for an effect that would reproduce the distorted sound of the bass guitar in Alannah Myle's song, Black Velvet. He got carried away. Rick and Joe marvel at Scott's new pedalboard with nine effects boxes. The guitar players have been challenged!
Even Practices are Better with Fans
Marc's wife, Jane, and Scott's wife, Joanne, made up our fans at the practice. Every practice is better with an audience, especially a cheering one…when they're not busy knitting. Joanne claims she found herself knitting to the beat of the music.
Hamming It Up
Scott, Rick, and Marc ham it up with their guitars with Ted in the background.
A Classic Pose
Rick and Marc adopt a classic guitar players pose, but just can't quite manage to take it seriously.
Pondering the Music
During practice, it often helps to check the sheet music or one's notes to see how a piece is to be played. Sometimes, a song just doesn't sound right, perhaps because someone isn't playing the right thing. A quick check of the reference material usually sorts it out fairly quickly.
Consulting Notes
Even bass players aren't perfect. Scott checks a musical progression in a song with Rick.
The Practice Room
We're currently practicing in Marc's basement. It's a well-finished basement that provides a very comfortable space with enough room to spread out a little. The beautiful music-related artwork visible in some of the pictures just adds to the ambience. There's an alcove to the left at the back of the room where our fan club takes care of the knitting. You can barely see Joanne's head just to the left of Kelly's head.
Joe and Inspiration
There's a lot of discussion that takes place during our practice and Joe is in the middle of a discussion here. Note the picture of Jimi Hendrix on the wall, a source of inspiration for us.
Marc in Action
Marc works his guitar during a song.
Marc's Guitar
If you've ever wondered what type of guitar Marc plays, well, now you know. 🙂
Kelly Singing
Like many singers, Kelly brings her own microphone to the practice. She's familiar with how it sounds and how it reacts as she gets closer to the mic, further away, or addresses the mic from the side. Joe, too, has his own microphone for the same reasons.
Joe Singing
Joe shares lead singing with his wife, Kelly. For each song, they work out who will sound best singing it. Then, they work out the harmony to be sung. We also work out vocal parts for other members of the band to make each song sound the best that we can.
More Kelly Singing
Another beautiful shot of Kelly singing.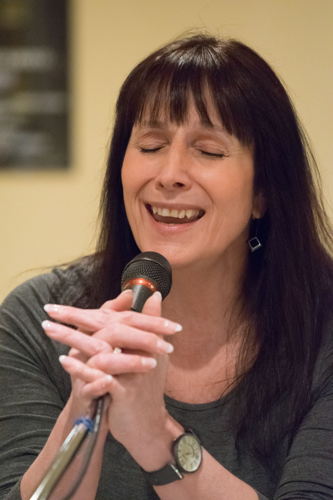 Scott Playing Bass
Scott is playing his five-string bass guitar.
Rick Playing Guitar
Rick is playing his guitar. Rick owns two guitars and alternates between them occasionally.